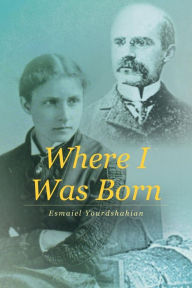 Where I Was Born
(A novel based on the life of)
(Dr. Joseph Plumb Cochran)
By: Esmail Yourdshahian

Translated by: Jessica Babakhanian
Author's Note On The Translated Text

It took me twelve years to write Where I Was Born. It all started in 1992 when, as the research manager at the University of Medical Sciences of Oroumieh, I was collecting materials for the first issue of the university magazine, and wanted to include a short history of the university in it. In the process of my research about the beginnings of the university, I came across the name of Dr. Joseph Plumb Cochran and learned about his work.
One day, while visiting his grave in the village of Seir, I read this inscription on his gravestone:
"He came not to be ministered unto, but to be minister"
. Standing there by his grave, I felt that his was a life, a voice, neither heard, nor appreciated as it should be. I had just published my first novel The Autumn, at the time. With tears in my eyes, I vowed that I would write about Dr. Cochran's life. But I knew nothing about the details of his personal life, or the lives of those around him —for example, how he and Katherine met, fell in love and got married, or how he spent his lonely times. All the existing documents about him were limited to the dates of his birth, death and his medical records. Therefore, I created many of those events or characters out of sheer imagination, while trying to be faithful to actual dates, events and personalities. The result was an enthralling novel about love and friendship, pain and suffering, worthy of this great and compassionate man. I re-emphasize that this novel is an adaptation of Dr. Cochran's life.
Here, I would like to honor the memory of the late Mary and Dorothy Cochran, granddaughters of Dr. Cochran, who kindly encouraged me through the entire process of writing this novel. I would also like to thank Dr. Lawrence Moulton, Mary Cochran's son, who still continues to do so.
I am most grateful to my friend, Jessica Babakhanian, who kindly undertook the task to translate Where I Was Born from Persian into English.
I would like to thank Mr. Payam Sharifi who, acting as my agent in the USA, has made great effort for the publication of this book.
This novel is dedicated to all those men and women who, free from ethnic, national, racial, religious, or ideological prejudices, believe in humanity, friendship and kindness towards other human beings. I believe in it, therefore, I consider myself a citizen of the world.
Esmail Yourdshahian (Urmia), M.Phil
2 March 2015
Oroumieh-IRAN
www.yourdshahian.com
es_yourdshah@yahoo.com
Esmail Yourdshahian is a popular and prominent contemporary Iranian author and poet. The novel Where I Was Born, first published in Iran in 2005 and reprinted three times since, is considered a new and different type of book among contemporary Iranian literature.
When I first read this captivating novel, I could not help admiring the author's amazing imagination. The touching story of Dr. Joseph Cochran's life, courage and invaluable work in the late 19th Century Iran, inspired me to translate the book into English, to introduce this man's fascinating story to readers from other nations.
Born in 1855 to an immigrant family of devout Christian Americans, in the village of Seir near the city of Oroumieh in Iran, Joseph Cochran studied in New York to become a medical doctor. He returned to his hometown in Iran, to serve people who suffered from epidemic diseases and the lack of sufficient medical facilities. He established the first medical college, as well as the Westminster Hospital in Oroumieh, and trained generations of medical students.
Based on pivotal facts, and expanded through imagination, the novel delicately flows between reality and fantasy, revealing the author's skill as a natural story-teller.
I would like to thank Mr. Esmail Yourdshahian for granting me the permission to translate Where I Was Born, and for guiding me throughout the work and providing me with relevant documents when needed.
Yurdshahiyan, [29.11.18 17:03]
My sincere thanks go to Mr. Pan Keshvardoust, to whom I am immensely indebted for patiently and meticulously revising and editing the translated text. His efforts have resulted in a smooth and flowing read.
Jessica Babakhanian
20 March 2015
Tehran, Iran
Contents

Chapter One: The Birth 5
Chapter Two: Katherine 11
Chapter Three: The Wedding 14
Chapter Four: Trabzon Harbour 16
Chapter Five: A House In Oroumieh 33
Chapter Six: War In Oroumieh 38
Chapter Seven: Death In Haft Asiab 63
Chapter Eight: Emma's Wedding 68
Chapter Nine: New York 1889 71
Chapter Ten: Winter In Oroumieh 74
Chapter Eleven: Unrest In Tehran 78
Chapter Twelve: Debora's Dream 86
Chapter Thirteen: The Monster Inside 90
Chapter Fourteen: Autumn In Katherine's Garden 94
Chapter Fifteen: Last Visit To America 99
Chapter Sixteen: Lonely Days 103
Chapter Seventeen: Millstone Of Death 106
Chapter Eighteen: Last Days 110
Chapter One - The Birth

At the dawn of a foggy October day in 1869, Debora Plumb had just said her parting farewells to her son Joseph before boarding a ship at the New York harbor, when she saw a young boy running alongside a carriage, carrying a lantern.
This brought back a memory from twenty one years ago. On a cold Saturday night, 18th March 1848, she had arrived in Oroumieh with her husband Rev. Joseph Gallup Cochran, their two young daughters Ida and Catherine, and a few other Americans. Ivan, the eight-year-old son of the Armenian coachman Yeprem who had come to fetch them, was running alongside their carriage with a lantern in his hands. He was wearing an old coat and a woolen hat whose brim he had folded up, and was staring at them with a childish happiness in his look. As he ran by the side of the carriage, he waved and said something to his father every now and then.
It was snowing, and the ground was almost covered. Yeprem drove the carriage through the narrow muddy cobblestone alleys, to Yourdshah quarter near the Yourdshah gate. It was getting dark, and the road was slippery. There was no light in the alleys, so Ivan went ahead, holding up the lantern. Yeprem stopped the carriage in front of the main gate of a big house near the church, got off and announced, "here we are".
They had finally arrived at their main destination, the city of Oroumieh, 17 days after they had left Erzurum in a carriage. But the entire trip had taken much longer. They had travelled from New York to Istanbul aboard a ship, and from there to Erzurum in a carriage.
Debora figured they had been on the road for seven months, during which time they had spent five days in London, seven days in Istanbul, and then, three months in Erzurum due to the winter cold, snow and blocked roads. In Erzurum, they had stayed at the house of a Christian Armenian. There, Debora had given birth to her little Catherine, who was two months old when they arrived in Oroumieh.
His hands shaking with cold, yet with a happy and smiling face, little Ivan was holding up the lantern and looking at them with wonder and curiosity. Debora could not resist; she bent down and kissed his cheeks. Then she introduced her young daughters to him. 'This is Ida, and this one's Catherine. What's your name?'
Ivan could not understand a word Debora was saying to him in English. He kept looking at them, quiet, wondering and embarrassed. The Cochran family was to stay at Yeprem's house, but the other American travelers would reside in the big house near the church. Yeprem, Rev. Joseph and Mr. Smith unloaded all the luggage and trunks and moved them to the second floor. Yeprem was Armenian, but his wife was a Protestant Assyrian; they had five daughters and a son.
Yurdshahiyan, [29.11.18 17:04]
It was a cold night. Debora could not sleep despite being exhausted. She lay down in her bed, awake till midnight, reviewing her life, her past, and her memories of the journey. She was homesick; she missed her country, her hometown, her parents and the whole family. She did not know what the future would bring, nor how long they would have to stay in this foreign country, among a people whose language she could not understand. She wished they had not come here. She wanted to be at home, to go to her father like before and talk to him. Ever since she was a child, she had been very close to her father. His presence, his calm voice and kind look always soothed her. How Debora needed him right now! She felt like crying; she hid her face in her pillow and burst into tears. She did not want her husband to notice her homesickness and crying.
Debora was the third child, and the first daughter, of the large Plumb family. Joseph Plumb was a religious man and a successful tradesman of French origin. In his youth, he had migrated from Paris to west of New York and got married there, becoming one of the powerful and influential men in the region. Later, he settled in the small town of Gowanda near Buffalo, where he established a Sunday School in order to preach the Gospel, particularly according to the Presbyterian teachings. Then with his own investments and help from other residents, he built the first Presbyterian church in Gowanda, and was ordained as its first pastor. It was in the same church that Debora met, and got married to, Joseph Cochran, who had been employed to teach at the Sunday School.
Rev. Joseph G. Cochran was the son of Samuel Cochran who had moved from Scotland to the United States when he was young. He had married the French-born Catherine Gallup, and had settled down on a piece of land which he had purchased in Springfield. His aunt Mercy Franklin was a close relative of Benjamin Franklin. Joseph Cochran had studied Theology at university, and had extensive knowledge in Orientalia. For some time, he worked as a private teacher in New York. After his marriage with Debora and joining the devout Presbyterian denomination, he decided to devote himself to serving people. Thus, accompanied by his family, he headed to this corner of the world.
Debora made a wish that her children would always stick together. Then she gradually fell asleep.
Next morning, a group of people from the neighborhood came to visit the family. Each had brought a gift to welcome them. A number of non-Christians were present among them. Debora was surprised by the warm and kind welcome they received from the very first day of their arrival. Her husband, Rev. Joseph, prayed for the visitors and blessed them. Language was an important barrier. Most of the conversations were limited to exchanging a few basic words, smiles and gestures.
Around noon, Mr. Perkins came to visit them, accompanied by Dr. and Mrs. Wright. Debora had heard of Mr. Perkins before. The letter which had been sent to her and her husband, offering them the current position, bore his name and signature. He had lived in Oroumieh for sixteen years. Fifteen years ago, he had founded the first western-style co-educational school with modern educational facilities, as well as the first Teacher Training Institute in Oroumieh, in the village of Seir. The number of the schools he established kept growing. So he needed more people to run the schools and train the teachers.

Mr. Perkins welcomed them and gave them some information on the city of Oroumieh, the population, people's lifestyle, and the neighboring towns and villages. Then, he produced a few letters from his pocket — recommendation letters for the couple. Among them, there was one letter from Joseph Plumb, Debora's father, and another letter from Miss Marta H. Bertha Reed. In his letter, Debora's father had advocated for his daughter and son-in-law, emphasizing that they were the most devoted persons suitable for this position, and that he was sure they would remain there for years. Upon hearing her father's words, Debora suddenly felt shattered. A sense of distance, homesickness and loneliness shook her from the inside. The change in her mood was so obvious that both her husband and Mr. Perkins noticed it. In a fatherly kind tone, Mr. Perkins asked, 'Are you all right, Debora? I hope you don't feel lonely here.'
Debora turned her embarrassed look away from Mr. Perkins. 'I hope I won't', she replied.
Mr. Perkins smiled kindly, and said to Rev. Joseph, 'Your trip took so long. We've been waiting for you for months.'
'Yes, it did, about seven months', answered Rev. Joseph. 'It was because of the winter and the snow. The roads were blocked. We were not familiar with the region, and with all that snow, we couldn't cross the mountains in a carriage.'
'Yes, it's so difficult. Thank God you've arrived safely. We need you here tremendously. Miss Marta Bertha Reed has written so well about you and your classes. She says all the parents of your pupils, as well as her own family members, consider you a blessing. Mr. Plumb has written about your moral values and your spirituality. I should say I feel so honored to have you here. Of course, this place and our schools might not interest and attract an educated person like you, but from what I've heard about your character and your spiritual objectives, I think this could be the best place for you to serve God's people and Jesus Christ. We so need your services in the Institute and in our schools, particularly in the village of Seir. Right now, there are eleven American families living there together with the local Christians, but unfortunately there is no priest to perform the religious rituals for them. Your presence in Seir could be such a big privilege.'
'Where is Seir?'
'Over there, on that mountain.' Mr. Perkins got up, went to the window and opened the curtains. Out there was a relatively high mountain covered with snow. He pointed his finger towards a village on the mountain which looked like a spot from the distance.
'There, that village on the top, is Seir. It's ten kilometers away. There are also other villages below that. It is a calm and beautiful place, with a nice spring flowing, and amazing nature.'
'What about a church?'
'Unfortunately, there is none.'
'One should be built, then.'
'Yes, it should. As I said, there is so much work to be done. We need everyone's help. You should come to Seir as soon as possible.'
'We're ready.'
'Your duties have been decided. You are required to help us in running the Institute and teaching some of the subjects.'
'And building the church.'
'Of course. Building the church would be your primary objective, and we will also help you.'
Mr. Perkins got up. So did Dr. and Mrs. Wright. Mr. Perkins said, 'We hope to see you in Seir in a few days' time.'
'I hope so.'
Mr. Perkins turned to Debora. 'And you should work at Dr. Wright's clinic two days a week, in addition to your work at the Institute and your personal responsibilities.'
'At the clinic?!', asked Debora, surprised.
'Yes.'
'But I don't know anything about taking care of the patients.'
'Yes, you do. You have been trained at the Sunday School.'
'But that was all about religion.'
'That was enough. You will learn.'
'I will train you', said Dr. Wright.
'And I will be by your side', Mrs. Wright reassured her.

Mr. Perkins, Dr. and Mrs. Wright said goodbye and went out, leaving Rev. Joseph and Debora astonished, yet happy, from all that they had just heard. Debora was a little worried, but Rev. Joseph was quite calm. They were going to start their work on the next day, but they were still unfamiliar with the place and its people.
Debora said, 'Why don't we go for a stroll in the city? I'd like to see what kind of place Oroumieh is.'
'Ok. Let's go. Although in the future, we will have plenty of time to explore the city.'
'Do you expect us to stay here for a long time?'
'I do. People here are nice. You saw how they came to welcome us this morning. I have studied the history and culture of this area, and the Middle East in general. Different ethnic groups like Turks, Kurds, Assyrians and Armenians live here side by side in peace and harmony. They have an ancient history and culture. Yes, we are staying.'
Rev. Joseph's voice was filled with enthusiasm and emotion, and there was a strange sparkle in his eyes. He held Ida in his arms, and started dancing with her around the room, saying loudly, 'Yes, we will stay, we will stay.'
A week later Yeprem took the Cochrans and the family of Janus Higgins to Seir. Seir was a small mountain village with a population of around 200 people, comprising twenty eight Assyrian and Armenian Christian families, five Kurdish and Turkish families, and about eleven immigrant American families. The village lay on the slopes of the mountain, with its houses made of, and its narrow alleys paved with, stones. The Cochran and Higgins families were temporarily accommodated on the second floor of an Assyrian household.
They started their work right upon arrival in the village. Rev. Joseph taught in the Institute and the village school every day. He also selected a piece of land on the western side of the village, near the Institute, to build the church on, and he got to drawing a plan and organizing the construction work. Debora worked with the Women's Group at the church, and also in Dr. Wright's clinic twice a week, besides housekeeping.
Spring and summer passed in work. Autumn had already started when the construction of their own house in the alley next to the church was completed, just as Rev. Cochran had promised earlier. However, building the church itself progressed very slowly and would take a very long time. According to the local Christian tradition, building a church had to take seven years. Although Rev. Joseph did not believe in such traditions, nevertheless, he followed them out of respect for the beliefs of the locals. Debora was very happy to be finally able to move to her own house. The design was exactly what she wanted; small, with a brick facade, tall windows, two bedrooms, a large living room and a spacious kitchen with a view of the delightful Seir valley and the city of Oroumieh. Now she could furnish, arrange and decorate her house as she wished.
Months passed by, and winter was over. So were the next few winters. The Cochrans were gradually absorbed in the environment, and became part of the population of Oroumieh. They learned Turkish, Kurdish and Assyrian, and lived as the locals. In addition to teaching at the school and the Institutes in Seir and in the city, during his free time, Rev. Joseph would go to remote villages on horseback and visit the villagers, in particular the Christians. He would sometimes even preach from his horseback to small groups of Christians, while passing through the fields.
Yurdshahiyan, [29.11.18 17:04]
The winter of 1855 arrived. It was Sunday, 14th of January. A heavy blanket of snow covered everything. Debora had been in pain since morning. She was pregnant with her fifth child. Her husband had gone to Gowlan village to visit Rev. Martic, who was the priest, schoolmaster and head of the Seminary in Gowlan. He knew that Debora's labor was close, but he did not expect it to be this soon. It was a little past noon when Debora went out to the yard in order to fetch some wood for the stove. It had been snowing since early morning. She found walking uncomfortable. Her pain kept growing. Her lips were dry and her vision was blurred. She felt dizzy. She picked up three small logs, but then was unable to move. Suddenly, she felt something inside her tear, as warm fluid ran down her thighs. She lost her balance, fell to the ground and blacked out. The snow covered her face. A few moments later, the voice of a young boy revived her. She opened her eyes and saw Ivan standing by her.
'Ivan, go tell the neighbors', she moaned feebly. 'Call Nessa. Ida is in the church. Tell her too.'
She rose with difficulty. Her clothes were wet, but she did not feel the cold. She only kept praying and calling Jesus' name. Stumbling, she reached the steps of her house at the same time as Nessa and a few other women from the village arrived to help her. It was almost dusk when she gave birth to a boy.
Two days later, Rev. Joseph returned to Seir. When he heard the news of his son's birth, his eyes filled with tears. He took the infant in his arms, and together with Debora, went out to the spring in the village. There, he prayed and baptized the baby. Then they went to the church and named him Joseph: Joseph Plumb Cochran.
Joseph's childhood and adolescent years passed mainly at home, with his sisters and mother, who used to call him Beloved Joseph or Joseph Jr., at the school, or in the church with his father. Rev. Joseph was a spiritual cleric who devoted most of his time to praying, trying to avoid carnal desires and worldly matters. He taught the young Joseph everything about the Presbyterian denomination, which was similar to Gnosticism in many aspects and was somehow influenced by Manichaeism. Oftentimes, when he rode to nearby villages on horseback, he would take his son along. Young Joseph had another close companion as well: Ivan, the young boy who had been with Joseph since he was born. The love and care that Debora bestowed on Ivan, as well as studying at the boarding school, had kept Ivan in Seir. He would spend most of his time with Debora and Joseph, except for the time he was at school. As they grew up, the two boys became best friends.
By 1868, Joseph Plumb Cochran had finished high school in the boarding school of Seir. In spring, Debora and Rev. Joseph took Joseph Jr. and his sister Catherine to the United States to visit their relatives, and in particular, their grandparents. They visited the cities of Gowanda in Buffalo, Springfield and New York. It was during one of these trips, when Debora talked to her children about the miseries of people in Oroumieh, the shortages she had witnessed in Dr. Wright's clinic, and the need for more doctors. She imparted her wish with them, and asked them to study medicine instead of theology. After a month's stay in Buffalo and New York, Debora and her husband returned to Oroumieh. Catherine, who had received a scholarship, travelled to California to study medicine; and Joseph remained in New York City to study at the boarding college of New York. The Clement family, who were one of the leading bankers in the state, had undertaken all his education and living expenses in New York. After two years at college, Joseph would enter the New York Medical School.
The sound of the ship's whistle roused Debora. She noticed that the ship had already set sail. She waved back to her son, who was standing on the wharf waving to her.
پایان مقاله