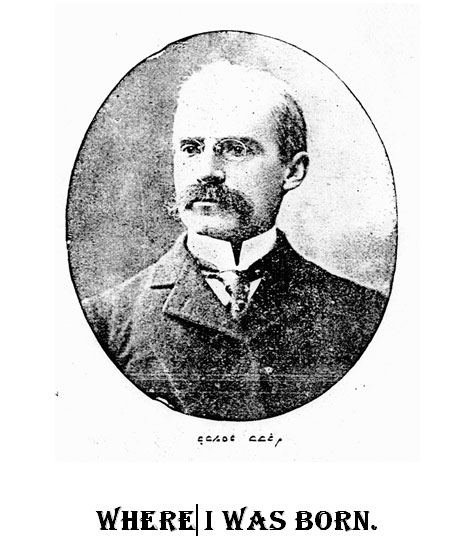 17 August 2003
Urmia - Iran
Where I was born.
Life history of Dr. Joseph Plumb Cochran
"Founder of Urmia's First Medical college"
IRAN - Urmia
August 2003
Introduction:
"He came not to be ministered unto,
but to be minister"
The above sentence is carved on Joseph. P. Cochran's grave stone; adopted from the holy Bible. The grave stone is huge, wide and heavy and broken in the mid section. On one side of the stone, there is a text in Assyrian language; an ancient language of Mesopotamia; and on the other, a text in English.
Dr. Cochran's grave is located next to Catherine's, his young wife who died in 1895, when she was only 42; at the pick of her youth.
His father, Joseph. J. Cochran, his mother, Deborah. Plumb. Cochran and others like Justin Perkins, Dr. Wright, Mr. Walter and the former British council lie silently in the neighborhood..

American Presbyterian missionary's cemetery, is located at the top of the "Seer mountain" in Urmia, Iran and in the old Christian's cemetery of "Seer village" which today is called, "Seer - e - Heidarloo". The cemetery is in the west side of the village and on a mild slope. Down there, near a narrow lane, in the South-west of the village; there is Cochran's house, facing towards west. It was inherited from his father. The house used to have a brick facade but now the ceiling is collapsed. There is still a wooden door and a metallic knocker; and grid-like wooden windows, which are long and slim where Dr. Cochran used to look at the mountains through, to the medical school of Urmia, Westminster hospital, the Urmia city and the narrow path which was stretched from the village to far; to eternity. A bit farther, outside the cemetery boundary walls, and on a mild slope, in the middle of a pasture; the grave of the one who was his best friend since childhood lies. His grave stone is a grain mill stone; carved by himself, supposed to be placed in the new mill of the village.
Seer village

Discussion:
Reverend Joseph. J. Cochran and his wife Deborah entered Urmia in 1848 and settled in "Seer" village. He not only managed the church affairs, but also cooperated with the "Seer" boarding school and taught English and religious sciences there. He also managed to perform the religious routines of several other villages. His wife Deborah, did the house work and also taught village women sewing and weaving skills with the minimal facilities and for two days a week she helped Dr. Wright in the clinic.
After seven years of residence in "Seer" village of Urmia, in January 14, 1855 a newborn baby, who was named Joseph Plumb Cochran stepped in their family. Joseph was his father's name, plumb his mothers surname and Cochran was his father's surname. During the childhood he was under his mother's peaceful and kind supervision and he not only studied in the "Seer" boarding school for six years, but also learned religious teachings and social ethics from his parents. In addition during his childhood he learned Assyrian, Azari, Kurdish and Armenian languages quite well; since all his peers were of those native speaker's communities.
In 1868, when he was thirteen, along with his family, he went to America to visit relatives where, he could carry on his education .
After three years; he graduated from New York boarding college and owing to his potential talent he entered the New York medical college and graduated in 1876. After passing two years of hospital disciplinary period he mastered in surgery, infectious diseases control and gynecology. Meanwhile; he took a trip to Minnesota and came to know and later fell in love with a beautiful girl named Catherine. Later meetings ended to their merry marriage. In 1878 Dr. Joseph. P. Cochran and his wife Catherine came back to his hometown, Urmia. Upon his arrival and residence in "Seer" village; he made a survey on hygienic situation of the area and realized the existing agony of people. Therefore he decided to establish a clinic. At first he visited patients with his wife in Iran's (Today it's the nursing college of Urmia ). But there were a lot of patients. Some suffered from serious illnesses some needed surgical operations, and some needed long term residence in a hospital.
In 1878, by Dr. Cochran's enquiry, American missioners purchased a fifteen hectare land and began constructing a 100 bed hospital there. The hospital was named "Westminster" and became quite well known among people. There were two large halls for non-contagious diseases; ten smaller chambers for contagious and infectious illnesses, two operation rooms and a large room was considered for a drugstore. A vast basement was also built for dissection room and morgue. The construction and preparation of the hospital took almost a year and it became operational in 1879.
Owing to lack of enough medical practitioners; after the hospital started its activity; Dr. Cochran decided to establish a medical school to train doctors. So, a wooden building was erected near the hospital, where medical staff were trained and lived with
Dr. Cochran and his family in following years. The theoretical classes were held downstairs, in a large room and they built a laboratory there, too.
This wooden building which is Urmia's first medical school, still can be seen and visited at Urmia University. The garden and it's streets still prevail today. Later, a maternity hospital was built with five patients' rooms, operation rooms, staff rooms and separate from the hospital a ward was constructed for infectious diseases, and a building for a drugstore was built there too. They received hospital furniture and supplies from the U.S.
The educational activity of the college which had been started in 1879; was expanded in 1882 with more facilities, vaster organization and in spite of Dr. Cochran's plentiful problems, he accepted the responsibility and managment of the medical college.
In the first year; and with just a few co-workers. He taught most of the courses himself. His wife took charge of the English language courses and "Mirza - Yousef - Khan - Lesanal - Hozor" taught Persian language.
By completion of the building and development of facilities, those American doctors who had come to Urmia, accepted teaching and co-operating in the hospital affairs and each spent several hours a day to train young doctors.

Basic sciences: physiology, Clinical sciences: pathology, diseases control, internal diseases' surgery, gynecology, obstetrics, orthopedics and first aids. Students had to attend in the medical college for nine to ten months each year. The college was open round the clock. Students used to study theoretically for several hours and spend rest of their time, as disciples in the hospital. Since they didn't have pharmacology in a compiled method and the only sources of drugs were herbs; Dr. Cochran who had a complete familiarity with Azari, Kurdish and Assyrian languages designed a combination of traditional medicine and systematic and modern pharmacology of that time which students had to be mastered in along with their clinical disciplinary period. As a result, the first college of pharmacological sciences was established in Urmia by Dr. Cochran. Until the time when the medical school stopped it's activity in 1905; Dr. Wright, Dr. Holmz, Dr. Non Nourdon and Dr. Miller instructed basic sciences and clinical sciences. Taught materials at the school were as follows: general courses: English language, Persian language, medical laws and ethics.
The medical college was active and Until he died, and the result of his 27 year educational and academic work, five groups of doctors; who graduated from the school. Their names and graduation dates are as follows:

The first group in 1883: Dr. Oshan - Khan
(Dr. Cochran's assistant), Dr. Israeil,
Dr. Shamoel, Dr. Yohana (hospital assistant)
Dr. Elisha.
The second group in 1890: Dr. Davood (He was a hospital assistant until he went to London),
Dr. Daniel, Dr. Shamoon.
The third group in 1894: Afshliman,
Dr. Bagherkhan - Khoei, Dr. Shalimon,
Dr. Aleksanderos, Dr. Aghasi, Dr. Yonten - Ke, Dr. Davood Hasanloo.
4. The fourth group in 1900: Dr. Joseph Pire (Dr. Cochran's assistant who served his people and died in his hometown) Dr. Envie (He practiced medicine in Tabriz and died there too) Dr. Loter, Dr. Ebrahim, Dr. Hashemkhan Khoei, Dr. Mirza - Ali - Khoei, Dr. Alkhas.
The fifth and last group in 1904: Dr. Eskandar - Khan (practiced in Urmia), Dr. Shamoeil,
Dr. Mir - Sadegh - Khoei, Mrs. Miller
(Dr. Miller's wife), Dr. Baba (practiced in Mosel, Iraq).
Of graduated doctors; two were educated by Dr. Wright, two by Dr. Non Nourdon, seven by Dr. Holmz and the rest were trained by Dr. Cochran himself.

Dr. Joseph P. Cochran in hospital 1897
The medical college of Urmia continued its activity until 1905, the time when Dr. Cochran passed away.
Dr. Joseph. P. Cochran who consecrated his entire life to serve his fellow people; became depressed and all alone in his last days of life and faced with lot of disgracefulness from some people. In 1895, his beautiful wife, Catherine, died of typhoid which took the life of a lot of others, and left him and her children alone (She had four sons and one daughter). After her death, he took the entire. responsibility of the hospital, family and the college and during that time he traveled three times to the U.S to bring more supplies for the college and the hospital.
In reply to his friends who had asked if he wanted to come back to the U.S, since his wife had passed away and children needed further education, he answered:
" This is the matter of their own; I was born here and will die here too!"
In the spring of 1905, a Kurdish rebel man, intrigued by some people, unsuccessful to assassinate Dr. Cochran, Killed Albery, his coworker with stabbing a knife repeatedly. This circumstance had an immense effect on Dr. Cochran and left him desperately depressed.

In June 1905, to overcome a sudden famine and scarcity of flour, Dr. Cochran decided to build a mill near the river in "Hesar" village. Two men, Ivan and Heidar who had carved the mill stones in a nearby mountain called "Ghoshlar Ghalasi" (birds' fortress) started carrying them with a cart. The movement of the cart was being done quite slowly and with lots of difficulty; they not only had to pass the bumpy mountainous area but also, cross the river. The moving day, the sky was gray and a layer of thick dark clouds covered the sky. It was quite unusual at that time of the year. In the afternoon the rain started. While crossing the river, the river turned to a flood and the cart fell over Ivan's body, who was Dr. Cochran's friend since childhood. Parts of his trunk and limbs were injured. His injured body was brought to the hospital, but all efforts were useless. He died in unconsciousness. Dr. Cochran decided to put the mill stones on his grave then. One can still see it on the "Seer" mountain.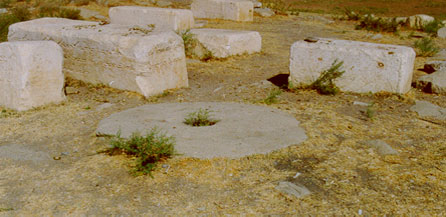 Ivan's Grove

He had a short but fruitful life and died in August 18, 1905 at the age of 50 in the second floor of his wooden house in the medical school. After Ivan's death, tired of years of continued work and bitter upcoming, while fighting against typhus, died; a martyr of bravery and self - sacrifice for the sake of his people, (Although some believe that he died of typhoid not typhus). whatever caused his death, he had a short life in which he extended a lot of humanitarian and also medical services and he not only trained 27 doctors in 27 years who continued their practice long after his death, but also cured almost fifteen patients and fought bravely against scourges diseases like plague, etc; and published medical guidance booklets in Kurdish, Turkish and Persian.
His death; left many people of Urmia mournful. More than 10,000 took part in his funeral. He was buried on the other side of the "Seer" mountain's steep, where his house was in sight. Just opposite the boarding school of the "Seer" village, his wife Catherine and parents, had already been buried. They imprinted on his grave stone:
JOSEPH PLUMB COCHRAN, M.D
Born June. 14, 1855
Died Aug. 18,1905
He came not to be ministered unto But to be minister.

After his death, for a short time the school stopped it's activity and after that, Dr. Miller, Mr. Shast and Dr. Pakard took charge of the hospital one after the other. Unfortunately, Dr. Pakard and Dr. Shed were not appropriate successors after Dr. Cochran; since they mixed their medical practice with politics.
After world war 1, Iran's Kingdom bought the school, hospital and all it's supplies and American missioners moved to Tabriz. In 1920, "Shir - Khorshid - Sorkh" of Iran (A medical organization of that time) built two hospitals in the present nursing college of Urmia and lofty purpose of a righteous man called "Shalchi" a clinic was built in Urmia.
After several years, Dr. Joseph Cochran the Junior; Cochran families' third son, came back to Urmia as a physician to continue his father's route and serve his people. He stayed in Urmia for five years; in the wooden building, with his wife and children; but after sometime, he was sent to Tabriz and employed by Iran's government to work in "Mashhad". Meanwhile, his daughter who had studied nursing, came to Tabriz.
This family belonged themselves and felt attached to Iran and served their lives for the sake of this land. Dr. Joseph Cochran the junior, who worked in "Mashhad" till 1957, passed away in 1985. His latest grand daughter, worked and taught in "Shiraz" University until 1979.
Urmia medical school which was closed until 1977, for seventy two years, re-opened in the autumn of 1977 and commenced it's activity. The medical activities of Dr. Cochran is highly praised and kept in the archive of the present day medical collage.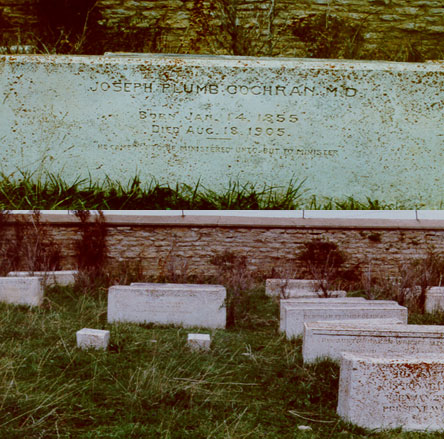 Reference:
1- Speer, Robert E.; The foreign doctor. New York. Fleming H. Rowell company (1911).
2- Cochran, Joseph P. (Se.); Memoirs of Joseph P. Cochran. Nov. (1983).
3- Moulton, Mary Cochran; A mission child in Iran. America: Moulton Desktop Publishing, 1997.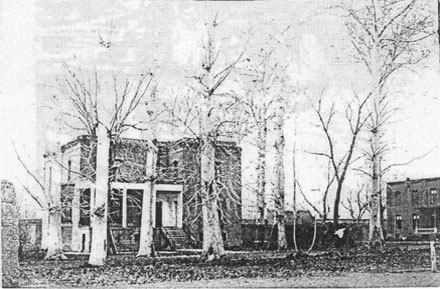 Cochran s house and first medical college building
Urmia – Iran 1878-1905
پایان مقاله